The purpose of this research is to develop a new voice-communication medium called voiscape. By this medium, two or more persons can talk each other by using a virtual sound space based on spatial sound technology. People can move freely in the "sound room" and people can choose, enter, and exit from a room. Cocktail-party like situation can be created with this medium. In short, this project targets realizing Second-Life-like world by sound.
Papers on voiscape are available here.
Recapturing Original Sound, Games, Business: Hitachi Ltd of Japan, meanwhile, is exploring business use. Yasushi Kanada, senior researcher, ...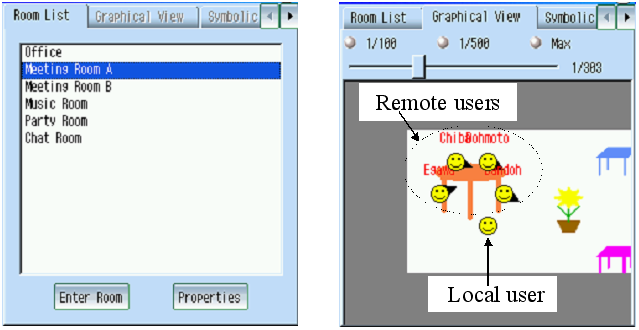 Keywords: voiscape, Spatial audio, 3-D audio, 3D audio, 3-dimensional audio, Three-dimensional audio, Spatial sound, 3-D sound, 3D sound, 3-dimensional sound, Three-dimensional sound, Virtual space, Virtual sound space, Virtual audio space, Virtual place, Virtual communication space, Virtual communication place, Human communication media