GENI is a project that has developed an environment (testbed) for experiments on new-generation networks, which should replace the Internet. The project created a network environment that connects computers, which are provided by many universities in the US and provides widely available network environment. GEC 22 is one of confences that GENI holds three times a year. We (in U. Tokyo, NTT, and companies), who are involved in a Japanese national project collaboratively presented demonstrations in GEC 22. I was presented a demo on experiments of a new protocol called IPON (which aims rebuilding the Internet (may be a little bit exaggerated expression). (IPON was also presented in previous SIG on network virtualization, so the link of IPON is connected to the presentation in this SIG.)
A major problem of IP/Ethernet, which is a widely-used protocol stack, is that, because the addresses are doubled (i.e., both MAC and IP addresses are included in packets), the packet sizes increase and a troublesome protocol called ARP that manages the correspondence of these addresses is required. The reason why they are doubled is that MAC addresses are used in LAN and IP addresses are used in WAN for deciding packet destinations. If destinations are decided by using IP addresses, only IP addresses can be used for both WAN and LAN.
To realize this address unification, a LAN switching function using IP addresses is implemented for this demonstration. This means, although MAC addresses are normally used for switching but they are unnecessary if IP addresses are used for switching. Switches that learns IP addresses were implemented by software on a virtual network generated in the experimentation environment of the project, and communication using a network with switches and VMs for terminals (simulated PCs) is experimented. Processes of the experiments of two communication modes, i.e., flooding and switching, were demonstrated by edited videos.
IPON utilizes the TTL field of IP to enable communication in redundant networks (networks with loops). (This avoids communication failure in a similar way to IP. IPON is functionally the same as previously proposed protocol called IPEC.) In addition, one of the three (triangularly connected) switches used in this demo was implemented using the plug-in architecture. In this time a software plug-in was used for the demo, but IPON can be implemented using a network processor or other hardware by using this plug-in architecture.
Visitors asked various questions, but the responses of the demo were mostly in favor. Recently protocols that replaces conventional protocols such as IP or Ethernet (clean-slate protocols) drew less attentions, but many people related to GENI still seem to be interested. Before the demo, I had thought that there were visitors who showed negative reaction on throwing MAC addresses away; however, I found they are mostly in favor.
Promiscuous mode of Ethernet is used for address unification, and several special techniques were required for implementing VNode and IPON. Several visitors asked about these issues.
It is very difficult to abandon IP/Ethernet in real networks; however, I believe it is necessary to point out the problem of this protocol stack, which was only historically defined (with no inevitability), and to make efforts for simplifying it.
Warning: The content of this blog article depends on the author's personal opinion, which is not from the company and collaborators.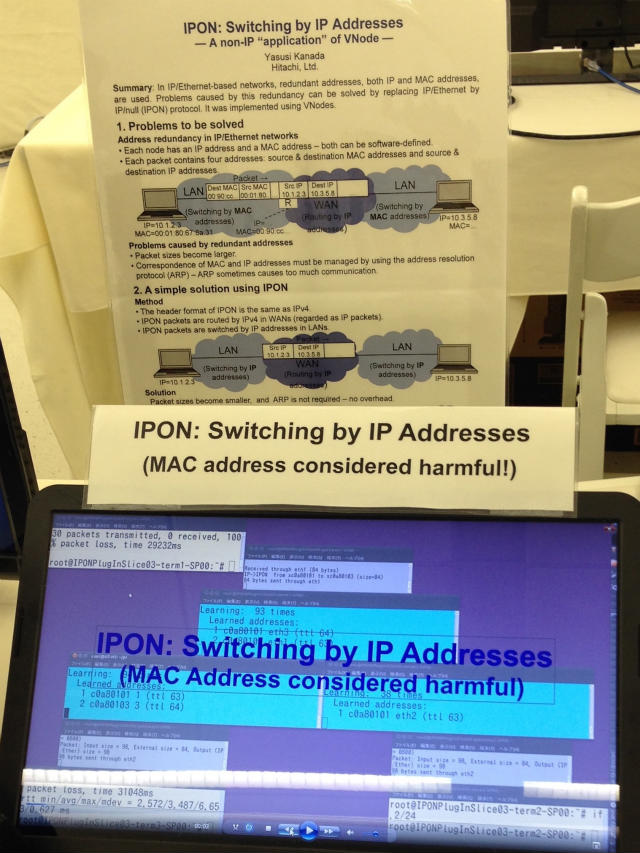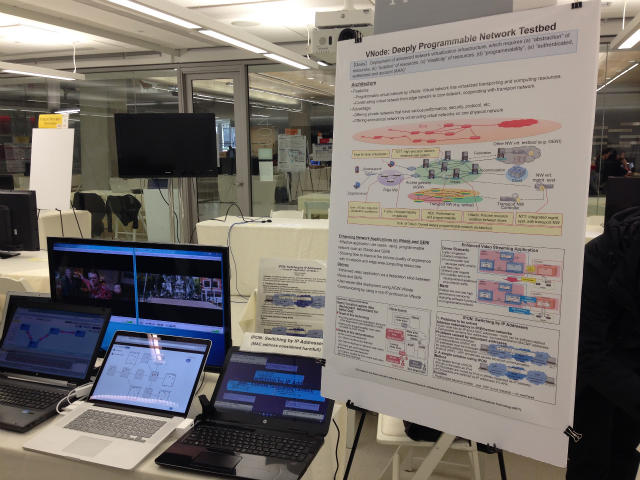 Keywords: