Classical and Contemporary Music and Their CDs/LDs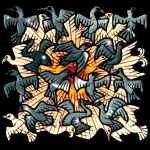 ---
The Opera / Vocal Area!, including Origins of Opera, Vocalists, Opera Talk BBS and
Opera-L Servers on Recorded Operas
An Alphabetical List of Composers, containing a home page list of more than 500 composers from medieval period to contemporary.
A Guide to Composer Data & Works Lists, including birthday list, death day list, ...
The Great Composers, including Bach, Bartok, Beethoven, Brahms, Chopin, Debussy, Handel, Haydn, Liszt, Mendelssohn, Mozart, Puccini, Schubert, Schumann, Stravinsky, Tchaikovsky and Wagner.
``Underrated Masterpieces'' by Steve Schwartz, contains brief comments on many composers
Classical Music WWW-Page by Johan Alkerstedt, contains Beethoven, Brahms, Tchaikovsky, Mozart, Dvorak, ...
Unknown Composers, including Audio
Auf Fluegeln des Gesanges... by Japan Phil.
Medieval Music Collections
Gregorian Chant
CLA: SIG on Classical Concert Hall (Japanese)
Music Biennale Zagreb -- 18th International Festival Of Contemporary Music
Budapest Early Music Forum, May 23-30, 1995, Budapest, Hungary
Early Music by Justin Renquist
Classical Music in Italy, contains Festivals and Concerts, Theatres, Orchestras, Musical associations, Musical competitions, Music press, Learning classical music in Italy, and Musical groups
Music on dulcimer -- Sounds played by Dave Neiman and Junko Niwa
SKR Classical in SchoolKids.Com
Renaissance Consort by Yasuhiko Higaki at Chiba University
Wired Magazine contains Music Reviews.

For example, Issue 2.07 (1994) includes ``She is a Phantom'' by Harold Budd, etc.

Electric Early Music by Yasuhiko Higaki in Chiba University
MC-link: Classical Music Home Page By Marco C. Benedetti
BBC Radio 3 listings (9 days) First day
NUMUS Concerts ``is a presenter and promoter of contemporary classical music concerts in Waterloo, Ontario, Canada''
Pacific Music Festival 1995 Academy Audition at Sapporo, 1-2/95
Basic Terminology of Music Bands (-: Japanese :-)
Perth's Classical Music Scene, containing West Australian Music Scene
Wedding Music Information Source, ``offers a catalog of over 300 musical selections appropriate for weddings. It includes both classical and contemporary selections.''
This section is focused on Music LaserDiscs, especially Classical ones. However, many resources in this section are on Movie LaserDiscs, because Music LaserDiscs are less popular.
Classical Insites, including Magazine contents, News, Real Audio, etc., with search
Japanese Music -- introduction, from traditional to pops.
Gagaku: Japanese and English
KANI's Music Linker by Shigeru Moriya
Music in CMU AI Repository, including Common Lisp Music, Common Music, and Common Music Notation
JapanEdge Music Page, including SYZYGY RECORDS, TRANSONIC RECORDS, TCP (Techno Chaos Productions), DIGITAL BISCUIT, Proxy Records, and so on.

Proxy Records `` is the first net's label in Japan. This label is not release records. We release audio-data.''

IUMA: The Internet Underground Music Archive (at www.iuma.com)
Metaverse (formarly called MTV)
Music Search Results at EINET
WebCrawler Search Results
Lycos Search Results
San Francisco Music Box -- ``Our mail-order catalog contains over 200 unique musical gifts!''
Music Players Mailing List -- Home Page (in Japanese)
---
See also: [List of Composers]

, [Home page in English], [Home page in Japanese].
---
Y. Kanada
(Send comments to yasusi @ kanadas.com. Thanks.) Created: 9/9/94, Modified: 2/1/99.